---
Yes Catalog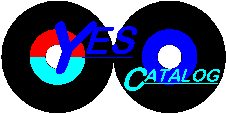 This is a discography of the progressive rock band Yes, plus solo works and related bands. It will concentrate on promotional releases, radio shows, alternate mixes, 8-tracks and open reels, different sleeves and inserts, reissues, editions distributed in non-English-speaking countries, and other rarities.

(If you want to know who plays on which track, there are other discographies that tell you that.)

Yes albums | Yes bootlegs | Yes EPs | Yes radio shows | Yes music | Yes singles | Yes videos

Jon Anderson | Anderson Bruford Wakeman Howe | Jon & Vangelis | Asia | Badger | Bill Bruford | Esquire | GTR | Steve Howe | Patrick Moraz | Trevor Rabin | Chris Squire | Strawbs | Rick Wakeman | Alan White | Various artists

Send updates | Guestbook | Links

Powered by WebRing®.

listen.to/yescat or yescat.tripod.com last updated January 9, 2003 by Allan Beatty (yescat@listen.to).
---